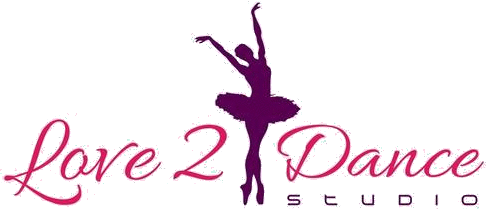 Love 2 Dance takes an individual approach to its class structures. Each group is customized according to the age and experience level of the students. Listed below are all the styles offered at Love 2 Dance Studio.
Classical Ballet
Classical Ballet is Love 2 Dance Studio's specialty. All dancers are encouraged to take this class at least once a week as it is the basis for all other dance styles and provides a strong foundation in training. Classical Ballet offered at our studio follows the Russian Vaganova Syllabus. It provides students with an understanding of rhythm and coordination, expansion of memory, development of strength and posture and the improvement of technique.
​
Toddler Ballet (up to age 3)
Toddler Ballet is our youngest ballet class. It is the first introduction your child can have to the world of dance. Classes are short enough to keep the little ones' attention. We make the class tons of fun with Disney songs and cool props. All ages are welcome, but try out is mandatory.
​
Beginner ballet (ages 4-6)
Beginner Ballet is a fun ballet class for children who want to dance. The class introduces students to the basics of ballet and simple choreography is learned in every class. This is a recreational class.
​
Intermediate ballet (ages 7-9)
Intermediate Ballet is the next step for children to expand their knowledge of ballet. Simple technique is learned and more complex choreography is learned in every class. Beginners are welcome. This is a semi-professional class.
​
Advanced Ballet (ages 10+)
Advanced Ballet is for students who are serious about ballet and want to develop as professional dancers. The class begins training according to the Vaganova syllabus. We learn classical repertoire of famous ballets. This is a professional class.
​
Adult ballet (18+)
Adult Ballet is for students who wish to try out ballet for the first time or who used to dance and wish to get back in shape. This class includes stretching, technique, and choreography. All levels are welcome.
​
Ballet for jewish girls
This class is designed specifically for religious families. Ballet technique is taught to the girls in a Jewish-friendly environment. It features Jewish music and is girls-only.
​
Belly Dance
At Love 2 Dance studio we offer a basic Belly dance class for those who want to try belly dancing. This is a recreational class that only teaches the basics of Belly Dance. We offer a mix of styles and props may be introduced if students are interested.
​
Wedding Dance
Love 2 Dance Studio provides a completely unique wedding dance choreography for you and your loved ones to perform at your wedding. Classes can be taught for the bride and groom as well as friends and family to be performed at the wedding in any dance style to any song with easy-to-learn steps for everyone!
Zumba
Please visit the zumba page for all information on classes and bootcamp:
​
​
*Schedules are flexible and are built upon registration and availability
*All classes begin with a warm up and stretch